Product of the Week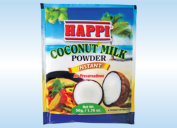 Happi Coconut Milk Powder is a product of Malaysia. It is a high quality product at an unbeatable price and will make a great addition to your kitchen. Use it in all-time Trinidadian meal favorites like Pelau and Callaloo.
Welcome
- Sign Up in your account
If you are a new visitor in our website, please
register to get access to unique information.
Register